Back to school is starting to infiltrate our psyches. And many creative souls will choose to refashion their "new" wardrobe instead of running to the stores to purchase all new gear. Ofcourse one of the easiest and most versatile items to refashion is the cotton knit shirt (often aka the t-shirt).
What are some things that we can do?
If you have a
long-sleeved knit shirt to refashion,
Jessica from Oh So Happy Together, designed this cute copy of an
Anthropologie shirt.
"How cute!" I thought. Then in an instant, my mind starting going over how to do this myself with a long sleeve shirt. It didn't take me long at all. I used a jersey type of shirt, but you could use a cotton, etc. shirt. There might have to be a few adjustments though (such as finishing the top seam all the way around). I also added at the bottom how I made the headband from the extra material.

I'm tempted to try
the braiding technique
cougaliciousx3 showed at Craftster. Fortunately, she pointed us to a video that explains how to do it:
I think this braiding technique might let me create a t-shirt corset for Renaissance Faire and nights out. If not this, how about...
...HippieAtHeart's cute
Corset Shirt
on Craftster. This might be the answer for Renaissance Faire Wear! What do think? Cool and still appropriately stylish. And she made it just a few hours.
Merlinda performed
t-shirt surgery
to make this adorable dress! Her LiveJournal directions are hand drawn and clear. I can see some older band t-shirts being turning into dresses for new concerts.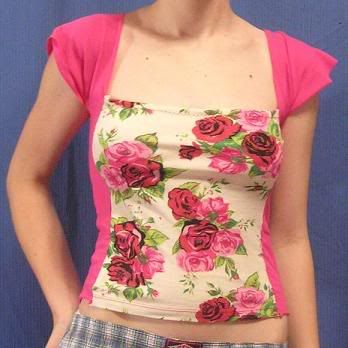 Also on LiveJournal t-shirt surgery, dr. god (slugfever) offered directions to this cute top which combines 2 different t-shirts.
Now for a couple things for the bottom half:
logan figured out how to save a great t-shirt image by making
t-shirt underwear.
I'll admit I'm having trouble imagining how she did it, but
luvinthemommyhood
designed a pair of
shirt sleeves to yoga capris
from her husband's donated long sleeve polo shirt. She had earlier done the pants in a child's size and was challenged to create these for women to wear.
yes, that's right, i made pants from a pair of sleeves. nuts? nope. fun? you betcha! i got so many comments about the first tutorial in this series (click here for the tute) stating that they wished they could make pants in an adult size, that i couldn't stop thinking about it. i remembered one day a week or so ago that my hubby had thrown this soft, blue cotton polo in his donation to my sewing pile and a light bulb went off in my head. the sleeves stretch! they could fit around my thighs, ok, possibly fit, so i tried them on. mackenzie had a great laugh, jer thought i was nuts, but i persevered. i love how they turned out.

I also blog at:
Weight for Deb
and
BlogHer
on Wednesdays and Saturdays.