Katy (on the right) and Jake (on the left) are loaded up and we are heading out of town for a couple days. We'll be staying at a nice little motel up near Mendocino. Walks along the bluffs, playing in an estruary, and a trip to a gorgeous botanical garden are all in our plans. Let's hope that weather cooperates.
In the meantime, why not visit
Nita Leland's
Creative Projects and Links for some ideas for play yourself.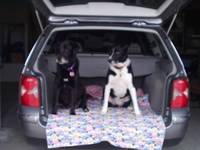 Posted by Hello