I will admit that for some weird reason I'm fascinated at the moment with stitching grids. Don't know why... but I am.
So this morning I spent 3 hours playing in my studio...
Nope, didn't attach any leaves today...
Nope, didn't work on the mentioned but not explained new project...
I stitched grids.
I spent an hour playing with painted Viva paper towels. These towels can be washed and dried, and now I know they can be stitched without falling apart. Quite cool.
So why?? am I playing with Viva paper towels? The watercolor class I'm taking has us use the towels for cleaning up. So I have towels that are filled with pigments and look wonderful. I wanted to be able to use these somehow.
So I stitched pieces of the towels to Timtex or polyester batting, then occasionally added glittery stuff and tulle... and stitched a bit more... then turned them into artistic postcards.
Shiny!! And way cool recycling.
Shiny. This is a painted paper towel, with angelina fiber, confetti, fabric bits, tulle and grid stitching. Out of focus.
Shiny #2... same card, in focus but the flash kicked in.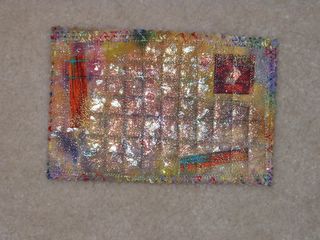 Postcard #2. There is stitching in both directions, though only the decorative stitching shows. Again a Viva paper towel.
Freeform machine stitched. This paper towel needs something more before I could mail it; it's too fragile. Maybe coat it with gel medium. We'll see.
After this I picked up a piece of fabric and grid stitched the heck outta it. This is going to be the base for a piece for the SMALL WONDERS show in Chicago next year. At this point, I can pick up the beads, pack it all in a small bag and have it with me wherever I go. So it will be my portable project for the summer. Yep, a piece of my clean up cloth. It's stitched with a variagated sulky in a small diagonal grid. And I really should have cropped it before I sent it, but OOPS, too late.